Frequently Asked Questions
How do I take care of my jewellery?
Make sure to avoid exposure to/contact with water and perfumes & lotions. Store your jewellery in a dry and dust free place.
Does the gold or silver change colour after a while?
Plated jewellery as well as raw bronze can loose its colour, depending on how it is treated. Make sure you don't bring your jewellery in contact with water or other liquids. Also avoid bringing perfumes or lotions in contact with your jewellery. The pH-value of your skin may also affect the plating. Please view our Warranty section for more details.
Do you ship world wide?
Yes, we do ship world wide. Please read our Shipping information.
Do you have different Ring sizes?
Most of our Rings are resizable – they fit on any finger. If a design should not be resizable, the diameter is written in the details of the item.
I'm unsure about the ring sizes even though they are resizable. After adjustment, do all rings fit on all fingers?
Rings that are indicated as "Midi Rings", are usually worn above the middle joint of your finger, or on your pinky. Most of our rings really adjust well. Depending on your finger size, a Midi Ring might fit as a normal ring.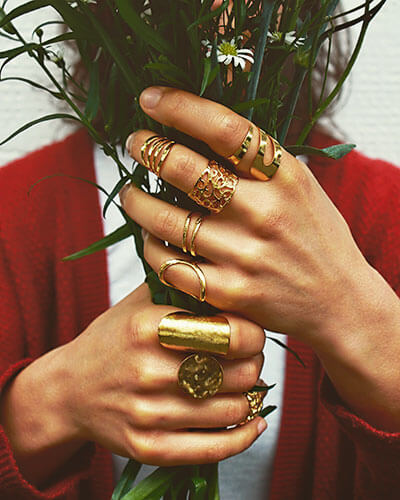 If you have any more questions or requests, feel free to contact us. We make sure to update the FAQ's frequently.
Warranty
Treat your jewellery with love and they will last a lifetime. Being gentle and caring with your pieces makes all the difference – repetitive bending and twisting (e.g. Rings and Bracelets) can cause damage to your jewellery. Also have a look in our FAQ's to get more knowledge on how to take care of your new found treasures. All pieces are exclusively handcrafted by professional artisans – standing for quality and service we offer a one year warranty on all jewellery, accessories and clothing, trusting you handle your purchase with love and care. With each purchase we include a little reminder on how to treat your new pieces. If however LaRox believes the item has been damaged due to bad care, the warranty will be void.
Shipping
LaRox will post your order within 1-3 business days of purchase, as well as sending out a confirmation eMail. We offer two types of shipping options, to ensure that your order arrives safely. Standard Shipping – This shipping method comes with tracking and takes 3-10 business days to arrive, depending on your location. Your order may be left in your mailbox or at your front door making it difficult to trace if lost, as it does not include signature on delivery. Once we post your item we will not be responsible for the loss ore damage of your item. Standard Shipping with signature on delivery – This shipping method comes with tracking and takes 3-10 business days to arrive, depending on your location. The parcel will only be delivered if it is signed for on delivery. This is the safest option for your purchase to arrive safely. Please feel free to contact us, if there should be any questions or concern regarding your order.